We may earn a commission if you make a purchase from the links on this page.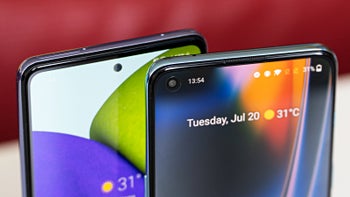 While flagship phones are getting more expensive every year, more and more people are looking for a cheaper way to get a good smartphone. A $500 budget used to be more than enough to buy a cutting-
edge
device, but is that still true? What do manufacturers sacrifice in order to make a quality phone for half the price of their high-end flagship? This is what we're going to find out on this list of the best phones under $500.
Apple iPhone 11


The iPhone 11 is not a new device. It was released back in 2019, but it has aged gracefully and become a great mid-range phone. The iPhone 11 is on this list because we think it is still by far the best value-for-money iPhone you can get. At a price of just $499 you get a powerful enough processor, plenty of RAM to run iOS smoothly, a large battery, and a quality build. Its design also withstood the test of time, as it isn't so different from the current Apple phones.
Where its age shows the most is in the screen department. Its 6.1-inch screen only has HD+ resolution, big bezels, and in the end, it is an LCD panel. All of the 2020 iPhones feature high-resolution OLED displays. The Apple iPhone 11's camera system is great, having a 12MP main and a 12MP ultrawide shooter. What more do you need?
Samsung Galaxy A52 5G
We move on to a much newer phone, the Galaxy A52 5G, which was released this spring. This phone has a great 120Hz refresh rate screen and a nice camera setup. The 5G enabled Galaxy A52 has a Snapdragon 750G processor, which isn't a bad chip at all, as it offers plenty of speed. This phone also offers great software experience and a nice design. 
Other pros of the Galaxy A52 5G include its amazing battery life and good build quality. This is a great phone for all types of people, especially the ones who don't want to change their phone every two years. At $499 the Galaxy A52 5G is definitely a safe choice. 
Google Pixel 5a
Google's new Pixel could become one of the best mid-range phones out there. It has an OLED, 6.34-inch display with an FHD+ resolution. Its refresh rate is only 60Hz, but this isn't very concerning, as its clean Android software should be fluid enough. Even though it doesn't have the newest processor, the Snapdragon 765G that its uses still offers plenty of power. The Pixel 5a has 6GB of RAM and 128GB of storage.
Like every Pixel phone, this one should be great in the camera department too. It has a dual-camera system consisting of a 12MP main shooter and a 16MP ultrawide one. The Pixel 4a's biggest weakness was its rather average battery life. The new Pixel 5a tries solve that by having a larger 4,680mAh unit. This phone's fingerprint scanner is located on the back though, which might've been acceptable in 2018 mid-range phones, but not anymore. At least you can count on receiving upcoming Android software first and for years to come.
Motorola Edge (2021)
We must admit, this phone retails for a more than $500, but we've put it on this list anyway as it is currently $200 off for a limited time at Motorola.com. The new Edge (2021) is a nice upper mid-range device that has a powerful Snapdragon 778G processor, 5G, plenty of RAM, and a nice-looking design. Its 144Hz refresh rate LCD screen sounds impressive too. A strong side of the Edge (2021) is its battery, which is a chunky 5,000mAh unit, which according to Motorola is capable of lasting up to two days. Its cameras sound impressive too. The new Motorola Edge (2021) has a 108MP main sensor and 32MP punch-hole style selfie shooter. This phone is a real bargain at $499, so you better hurry up before the deal is gone.
OnePlus 8


This one's appearance on this list might be a surprise to some, but unfortunately, the new OnePlus Nord 2 isn't sold in the US, and we thought this is its best alternative. The OnePlus 8 is now a one-year-old phone, but it started its life as a flagship phone, which means it is still a beast. This device's 90Hz AMOLED screen is still one of the best, and the same goes for its processor and RAM, which offer plenty of speed, even in 2021.
The OnePlus 8 is also a very well-made and premium feeling phone, with its aluminum frame and a glass back. Don't worry about it being outdated, because it isn't, especially considering it supports 5G. Its battery isn't the biggest, but it will last you through the day. Nowadays, you can buy the OnePlus 8 for just under $500 at the company's online store, which makes it an excellent option.
$500 phones finally offer enough
Why buy a $1000 flagship phone when you can buy a great phone for half this price? Well, it all depends on what you're looking for, but the truth is that you don't need to spend all of that money to have a device that will last. The phones under $500 on this list will continue being great for years to come, and some are so good that they are even a threat to their more expensive siblings in terms of sales. Companies like Samsung have started to give the good stuff to their mid-range phones too, which might be just another explanation for Android's decline in flagship sales. Well, there is a reason behind everything, but we customers should be happy – this is our time so spend less on much better. Hurray!
Also read: